James Gunn Back On As "Guardians Of The Galaxy" Director
James Gunn has been reinstated as director of "Guardians of the Galaxy"
Apparently, his handling of the controversy persuaded Walt Disney Studios honcho to bring him back
He's released a statement thanking his supporters
You may recallrumors that Marvel was in talks with Disney to reinstateJames Gunnas director of "Guardians of the Galaxy" after he was fired for some old, offensive tweets. Well, it's official – he's back on.
Apparently, Gunn's public apology amid the controversy, along with how he's handled the fallout, has in part persuaded Walt Disney Studios honchoAlan Hornto bring him back. The "Guardians" cast, who have been very vocal about theirsupport for the director,can rest easy knowing that he'll helm the third installment of the franchise.
Gunn has released a statement about the decision on Twitterthanking his supporters. "I deeply appreciate Disney's decision and I am excited to continue making films that investigate the ties of love that binds us all," he writes. "I am always learning and continue to work at being the best human being I can be."Read his full statement below.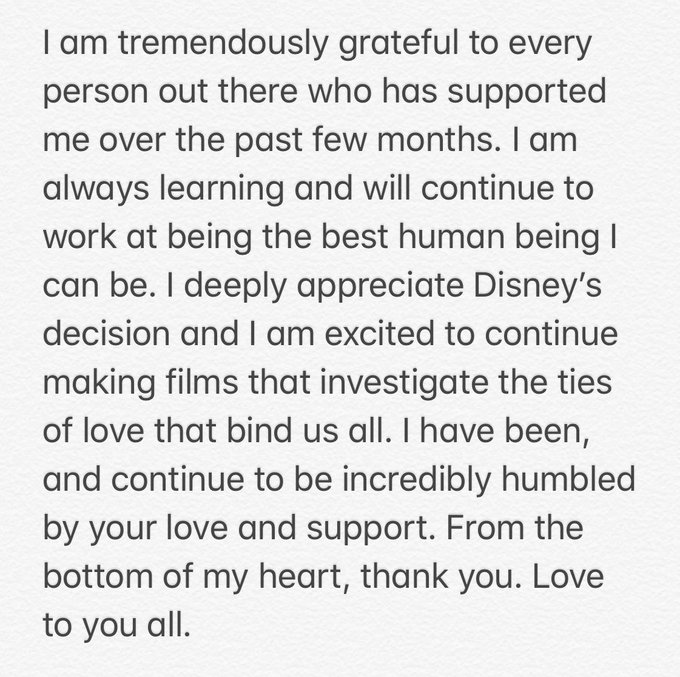 James Gunn✔@JamesGunn

263K
2:09 PM - Mar 15, 2019
70.4K people are talking about this
Source:TMZ